ACL Open #13 and Shootout #5 Champs
Team Ultra turned up the heat in Mesa, Arizona this weekend. Ultra's players hit the Open and Shootouts hard, scoring some big victories and deep runs. With Mesa being out west, the event was heavily attended by the team and almost all of the West players. The weekend was bookended with ACL Open #13 and Shootout #5 Champs in Daymon Dennis and Gina Ramirez.
Shootout #5
Team Ultra got a big win with rookie ACL Pro Gina Ramirez in Mesa, AZ. Gina showed out on the ESPN broadcast, jumping to an early lead against veteran Kamryn Belvin. The game got close with Belvin tyng the game up in round 5 at 2-2. Belvin then tied it again at 3-3 in round 7. Gina continued to battle scoring a very important 4 in round 8.
It got really exciting at the end with Ramirez up 7-4. Belvin took the lead of the game up 1pt in the final frame however she left her last bag up and on the front of the hole. In the pressure of the biggest game of Ramirez's life, she needed to hit a clean, backside airmail over Belvin's bag in order to not lose. She had lead most of the game to this point. Gina took a wise time out. Then she calmly delivered a perfect airmail in one of the most clutch moments we have seen on a broadcast. The bigtime shot sealed the game sending Ramirez to the Pro Shootout Finals where she will be the Women's 5 seed! It also scored her a $4,000.00 payday! Ramirez revelled in the moment not only winning her fist ACL Pro title but doing it in front of her hometown crowd! The excitement of the shot generated an explosion of cheers that echoed throughout the Legacy Sports complex.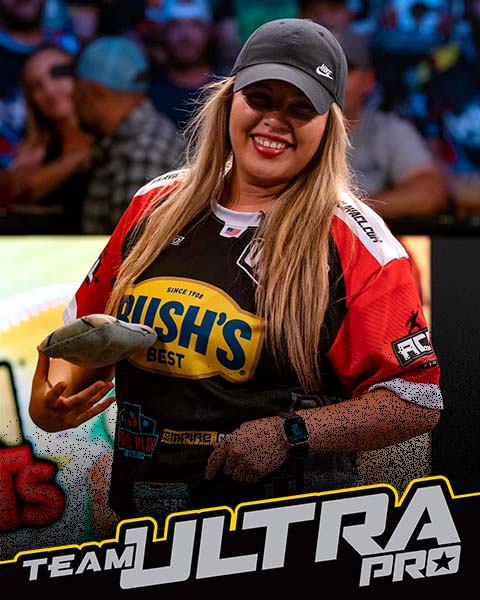 Yetty Irwan and Kimberli Glass tied at 5th. Both Women will have 3 more chances to qualify for the finals.
On the Men's side,  Moses Zazueta finished 5th in the A bracket and Nick Williams picked up a 5th in the B Bracket. Team Ultra's Men will have 3 more chances to send another player to join Chris Kingsbury in the Shootout Finals.
Open Singles
The immortal Daymon Dennis proved that ANYONE can play and ANYONE can win taking the the ACL's Open #13 Singles championship! He did so by besting Kaleb Batson who won the C Bracket. Team Ultra's Moses Zazueta won the B Bracket. He battled hard in the final 4 losing to Double D. Those were two huge wins for the game's #1 Senior player. He played great overcoming a gauntlet of the ACL's top young talents including Kentucky's Caden Allen who Dennis had to double dip to win the D Bracket. Dennis notched wins over: Tyler Poythress, Tubby Cobb, Noah Wooten, Dan Glogouski and Kimberli Glass to get to the bracket championship.

The Team played great throughout the 4 singles brackets. With 256 Open singles players in the field having 2 Bracket winners in Dennis and Moses Zazueta, Team Ultra showed out on Sunday. Felix Vargas III, Doug Zafft and Alan Rawls put in some work. They each took 4th in their bracket. Ashton Speas and Tubby Cobb finished 5th in their respective brackets.
Bracket Results:
A Bracket
4. Vargas III
17. Seals, Tscherne, M. Lopez
B Bracket
1. M. Zazueta
9. Segura
13. Parent, C. Ballard
17. M. Sehlmeyer, Lewis, Tyce Cobb
C Bracket
9. Williams
D Bracket
1. Dennis
4. Zafft
5. Speas, Tubby Cobb
7. Glass
9. Cassidy, Roybal
13. B. Sehlmeyer
17. Almanza, Hadley
Tier 1 Open Doubles
Tier 1 Doubles was chock full of talent! Only 66 teams qualified for Tier 1. That is just 132 of the 256 that played Open Singles. This meant that Rounders was especially tough. Peter Zazueta Jr. and Moses Zazueta had an outstanding day in doubles. The Zazueta brothers picked up some big wins over Burchfield and Mireles then Ty Lopez and Bryson Bland.  They picked up a victory over Dave Sutton and Daymon Dennis to get to the king's seat game which they lost. After a second win over Sutton and Dennis, Moses and Pedro came up just short of winning their second Open Doubles title of the season falling to Logan Chamberlin and Sammy Soto who won the whole thing. In the B Bracket Ultra's top finisher was the Texas duo of Jonathan Segura and Felix Vargas III at 5th. Ultra's Alan Rawls also picked up a 5th place partnering with Chris Fagen and throwing Vipers.
Bracket Results:
A Bracket
2. P. Zazueta/M. Zazueta
3. Sutton/Dennis
9. T. Lopez/Bland
13. M. Lopez/C.Ballard
B Bracket
5. Vargas III/Segura, Alan Rawls/Fagen
9. Roybal/Mason
13. Speas/Cassidy
The weekend was a success for Team Ultra winning Championships in both the ACL Open #13 AND in the Pro Shootout #5.  Next up for the Team will be National #3 in Portland, Oregon.