ACL World Championships 2023
The 2023 ACL World Championships finished up a couple of months ago. Team Ultra's players made some big statements in Rock Hill, South Carolina. We didn't want to ignore their work so here are some very late results.
Pro Singles
Chris Kingsbury had a heck of a run. He went undefeated in a stacked bracket full of Ultra Talent. Bracket D finished with a 1-2-3 Ultra podium. Kingsbury took down Team Ultra's Ryan Hart for the king's seat. Hart winds up third losing to Daymon Dennis. Double D earned his way to the championship match where he pushed Chris to the limit losing 21-17. With the win, Kingsbury earned a spot in the Final 4 bracket and a date with ESPN.
When the final bracket was revealed Kingsbury would match up with MVP Tony Smith. Kingsbury didn't let that intimidate him. He adjusted to the new boards under the lights and switched to the Ultra Psychos giving him a little extra speed and flex. He relentlessly attacked the hole. With is push game working to perfection, Kingsbury was able to work through almost every block. He used this to pull off the big upset and earn a spot in the final.
The final didn't work out as Chris had hoped. Jamie Graham was on a mission! None the less the run Chris put together put him in a great spot going into the off season. We are sure he will leverage this and all the experience from his rookie season to fuel him in the 2024 season.
Team Ultra finished up with $14,550 of the $57,200 purse in Pro Singles. Chris with his Pro Shootout finish, his Pro Blind Draw win and his Pro Doubles finish picked up $13,150.00 for his week in South Carolina.
Pro Doubles
In Pro Doubles Team Ultra really didn't get anything going. The best finishes from the Team were 2 bracket 3rd place finishes. Daymon Dennis picked up a bracket 4th with Jimmy McGuffin while Alan Rawls and Chris Kingsbury notched a bracket 5th. In 6th in their bracket, we had SoCal's Andreu Labrador and his "gurl" Nick Williams. Longtime partners and some of the longest tenured Team Ultra players Tyler Parent and Brevon Valdivia also finished in the money at 6th place.
Team Ultra scored $3,300 of the $62,200 Pro doubles purse. Doubles will be a major focus for the Team in 2024.
World Champions!
It wasn't the trio of champions Ultra had in 2022 but the "The Immortal" Double D Daymon Dennis along with Jimmy McGuffin brought home a World Championship to Ultra in 2024. They tossed the Ultra Psychos to a big win on the final day of the week in Senior Doubles. Double D also notched a bracket second in Senior Singles as did McGuffin.
Team Ultra's Sarah Cassidy took home another Women's Doubles World Championship with Cheyenne Bubenheim. They tossed Ultra Vipers the entire way until they played on the broadcast. For the fans that do not follow the sport as closely, many of the World Championship Tournaments are played until the final 2 or 4 players/teams are determined. Then those players/teams meet up to finish the tournament sometimes later that night or in some cases it could be days later. The bag a player uses on one court or in a different area of the room may change as they move or conditions change from day to day.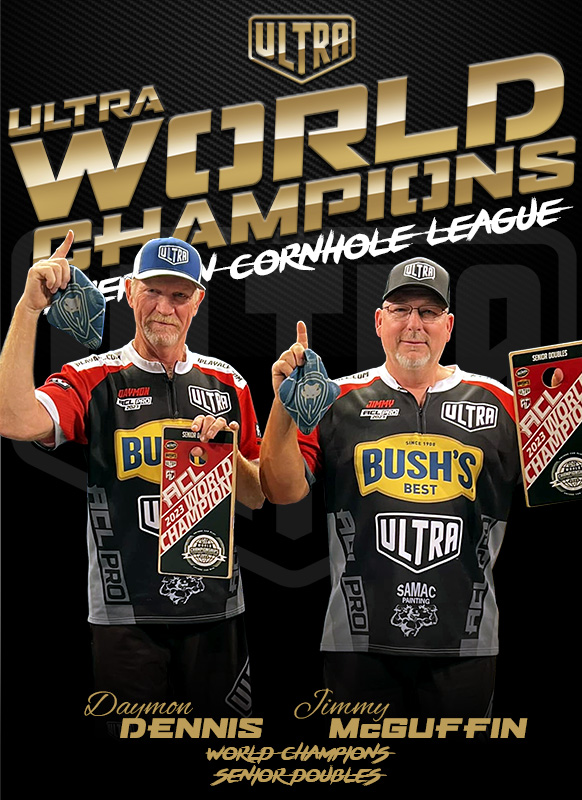 Pro Blind Draw
In the Pro Blind Draw, Chris Kingsbury wins a "World Championship" partnering up with Corey Morrison. Kingsbury's partner Alan Rawls picked up second place winning his bracket with Matthew Stout. The Kingsbury Rawls duo really gelled as the season progressed and is poised for a strong 2024 season together.
Team Ultra had 8 players finish in the money of the Pro Blind Draw. The combined to take $9,700.00 of the $30,600 prize pool. It was a good way for the team to end the week.
Women's Singles  
Kimberli Glass put a day together and earned a shot at the Women's Singles World Championship. She was off to a very strong start against the reigning World Champion Cheyenne Bubenheim however then the TV timeout hit. The TV timeout has been a controversial change in the Pro cornhole world. The TV timeout occurs when one player reaches 11 or more. The momentum shift caused by the 3min break in play has changed many a game this season. Kim put up a good fight but soon after the TV timeout the game's momentum shifted to Cheyenne. Cheyenne went on to take the win. Team Ultra's Sarah Cassify, Yetty Irwan and Gina Ramirez also placed in the money, as did Team Ultra Advanced player Mikayla Calvey. 
Breakout Junior
Phenom Jayden Ellis showed out at Worlds. Ellis had been on a tear since Worlds 2022 where he really began to show what might be possible. Ellis and the other Junior players arrived on Saturday for the opening of Worlds and the first events. Jayden had a week at Worlds. He claimed 3 championships. First up was High School Singles. Ellis won this event and was off to a hot start to his week. His next overall win came as part of Open Teams where his team won the event. And his biggest win was Advanced/PDC Singles. This was a monster win with 16 brackets coming together. Not only did he need to win his bracket, he then had to win a 16 player single elimination bracket to take the overall championship! Ellis really put the cornhole world on notice with these 3 big wins.
It wasn't just in those 3 events that  Ellis played well in. In Advanced/PDC Doubles he partnered with Evan Vanos to win his bracket and finish tied for 5th.  Ellis and Vanos teamed again for USAC Junior Doubles with duo finishing 2nd in their bracket. In the USAC Men's singles Ellis went up against some of the ACL's top players and finished 5th in his bracket. IN the USAC Junior Doubles event he partnered with Hayden Morris and they took 2nd in their Bracket. And then in Tuesday's big blind draw he won his bracket!
It was a very successful ACL Worlds for the young shooter from Michigan. Ellis netted $6705.00 for the week+ in the big events. With Ellis shooting at such a high level, it will be exciting to follow him as he embarks on the new ACL Elite tour while throwing Ultra.  
Looking Ahead
Team Ultra kicks off the 2024 Season at Open #1 in Rock Hill, SC over the first weekend in October. You can follow our pros on our facebook page or their own social media platforms.