Star Rewards
Become part of a movement and join Ultra's Star Rewards "Pilot" Program. All you need to do is wear an Ultra jersey and throw Ultra bags in big tournaments. If you place in the top 20, you earn points that you can redeem for any of our products, and when you finish in the top 5 you win big points and CASH! This program is intended for the players who want to represent Team Ultra and want to play for something more. So, if you play in big ACL and ACO tournaments as shown in the table below and are not restricted by contracts that govern what you wear and what bags you throw with, you will definitely want in on this deal.
Eligible Tournaments for the 2019 Season

The Points and Cash Table
This rewards program is for the Advanced Singles and Doubles for the ACL and World Singles and Doubles for the ACO. Below shows the points and cash table corresponding to the place finished for the player or team. Points have a redemption value of 10:1, meaning for every 10 points you can buy $1 worth of product at UltraCornhole.com. The player who earns the most points at the end of the season will win an additional $250.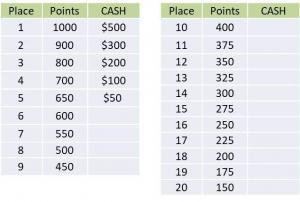 Example 1:  A singles player finishes 2nd in ACL National while wearing an Ultra Jersey and playing with Ultra Bags. This player gets $300 cash and 1800 points.  
Example 2:  A team takes 3rd in ACO Worlds while wearing an Ultra Jersey and playing with Ultra Bags. This team gets $400 cash and 2400 points.
Example 3:  A team takes 4th in ACL Championships but only one player is wearing the Ultra Jersey and they are throwing Ultra Bags. The eligible player will win $100 cash and 1050 points.
Participating in Star Rewards
Step 1: Register here
Step 2:  Get your Ultra jersey and Ultra Bags.
Step 3:  Report your finish and photos.   When you finish you will email us the bracket you played in.  We will also need visual evidence that you played with an Ultra Jersey and throwing Ultra Bags. 
That's it!  At some point soon, we will offer a discounted package deal that will include an Ultra Jersey, Ultra Hat, and set of Ultra Bags. As this is a new program, we reserve the right to alter the Star Rewards Program during the season. This is a participation at will program and no contracts are needed.  Thank you for supporting Ultra!