Description
Scorer Pro – Tablet and Phone Bracket
Using a phone or tablet to keep score has some advantages.  Especially for tournaments where scores can be updated real-time to a database.  We now offer a unique bracket that can adjust to hold a phone or a large tablet.  Plus it has a battery holder for extended tournaments or backyard fun.   If you get the combo set which includes the Score and Drink Table, you can have the best of both worlds.   The bracket attaches to the drink table or the score table.   This is truly the ultimate accessory for any sport that requires tossing and scoring.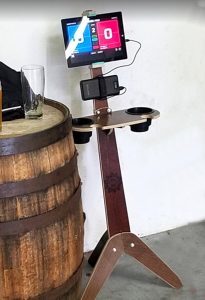 Main Features Include:
Provides players and spectators with easy to see big numbers for scorekeeping.
Includes a Score Table and a Drink Table.
Hold your drinks, beers, sodas, beverages, wine glasses, and bags.
Professional quality flip-style scoreboard can score a game to 29 points for each team.
High-quality exterior grade birch is dense and strong. Great wood finish.
Cornhole Tower Score Table and Drink Table.
Table surface is 30.2 inches from the ground and the overall height is 40.7 inches to the top of the scoreboard.
Collapses for easy storage and transportation.