Ultra Elite Cornhole Boards
Ultra cornhole boards are the highest quality cornhole boards on the market today.
Looking for top quality cornhole boards with a great natural feel and are made in the USA? Ultra Elite Cornhole Boards are the best boards in the game. Most of our competitors go with a thicker top deck and call it good, but we went further than that. Much further.
Constructed with high quality 1/2in thick birch plywood, the Ultra Elite Boards are engineered and reinforced with structural bracing unlike any other. Dual braces run the length of each board while a specially engineered back plate ties it all together. We designed our boards to be easy to carry, responsive and strong. Our boards are robust at over 25lbs each! The key to making that work is distributing that mass to all the best possible locations through the board. Each set features an all new passive damping technology that makes bag impact quieter and less likely to bounce. Easy Grab™ handles and rubber feet are integrated on our boards, making each set easy to take with you.
Nobody else makes boards like we do because our products are designed and tested by engineers with years of experience. Pound for pound, our boards are the best.
The cornhole board shown here has the Rebel finish with our Pro Graphics plus a star logo.  You can add your own custom design or company logo.  You can add color or go with a different finish.  There are hundreds of possibilities for your cornhole boards.  You can buy it plain and do your own custom design too.  Go crazy, get Ultra.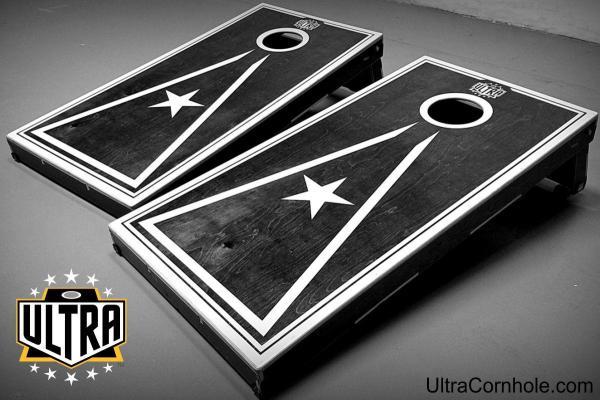 Trainer Pro
Our Trainer Pro is designed to get your game in shape. This triangular design is "skinny" measuring just under 18″ in the front and 10″ at the back. It will help you keep your bag straight while providing you some board to work shots around blocker bags. The Trainer pro also comes complete with a set of fences that can be placed into the slots on the top creating a strong block so you can work on your airmail technique.  
Trainer Pro is a great tool to get your cornhole game ready for your next tournament.